Children's bedroom furniture should not only be functional and safe but also exciting and imaginative. Loft beds have become increasingly popular for their space-saving design and ability to provide a playful and adventurous environment for kids. In this blog post, we'll explore Singapore's top children loft beds from trusted brands like LIFETIME Kidsrooms and Oliver Furniture, all available at Kuhl Home Singapore. These beds are sure to capture your child's heart and inspire their creativity.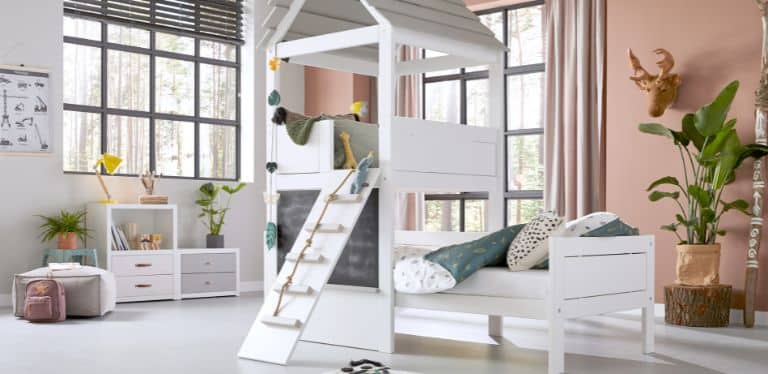 The Play Tower Loft Bed by LIFETIME Kidsrooms is the epitome of a child's fantasy brought to life. This captivating loft bed not only serves as a cozy sleeping space but also transforms the bedroom into a thrilling playground. Its ingenious design features a tower structure, accessible via a sturdy ladder, allowing children to climb up and explore their own little fortress. And what's more exciting than having a slide that takes them back down to the ground when it's time to start the day? The bed design encourages active play and imaginative adventures, making it a top choice for kids who love to create their own magical worlds. Parents can rest assured knowing that the bed's robust build and safety rails ensure a secure environment for their little ones to have endless fun while they grow.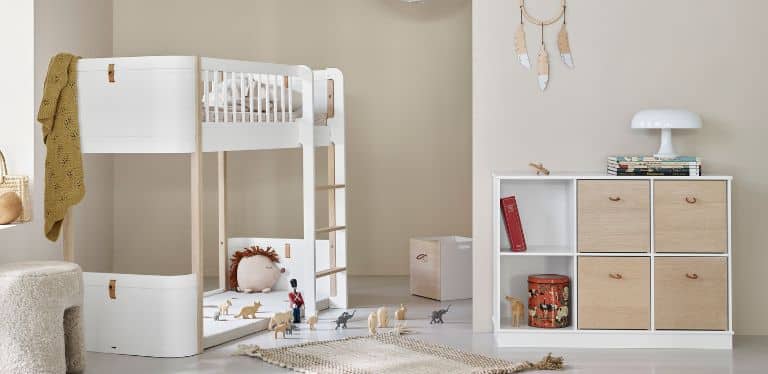 This kids loft bed exemplifies the elegance of Scandinavian design combined with functionality. Crafted from ethically sourced and eco-friendly materials, this loft bed offers a minimalist and timeless appeal that blends seamlessly with any décor style. The low loft design provides easy access for young children while creating a cozy and safe sleep space. The area beneath the bed can be transformed into a play den, a reading nook, or even a functional study area as your child grows. This adaptable loft bed offers incredible versatility, making it a smart investment that will evolve with your child's changing needs and preferences over the years.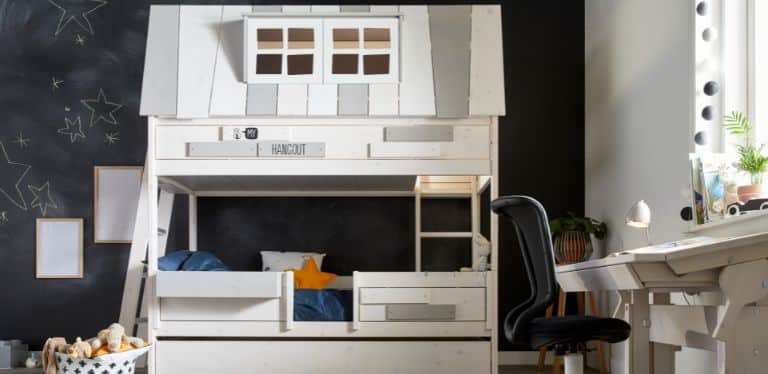 Instead of having the loft area underneath the bed, this loft bed model takes a spin of having the lounge/play are on top. LIFETIME Kidsrooms redefines the concept of a traditional loft bed, adding a touch of contemporary style and endless possibilities. This innovative loft bed features a comfortable sleeping area elevated above the ground, while the loft area is accessible by a built-in ladder. Your young ones can get creative with their top lounge area with fairy lights or adding a range of accessories to make the lounge area the perfect stake-out. With its durable construction and adaptability, the Hangout Loft Bed is an ideal choice for those seeking a versatile and engaging bedroom solution that sparks creativity and inspiration.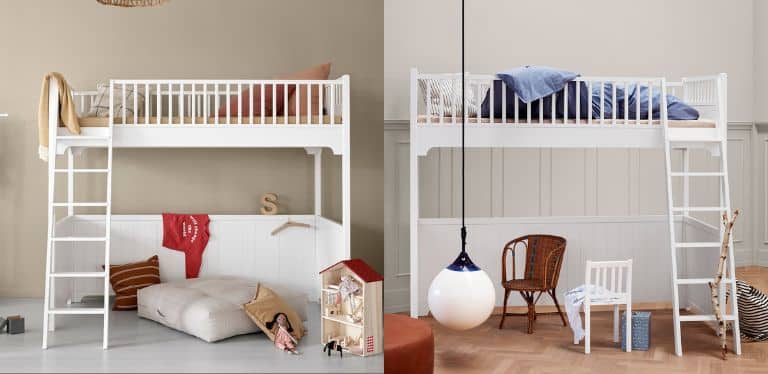 Transform your child's bedroom into a serene coastal retreat with the Seaside Loft Bed by Oliver Furniture. Inspired by the calming atmosphere of the beach, this loft bed features a charming house-shaped frame that invites imaginative play. Crafted from premium quality and sustainable materials, the Seaside Loft Bed exudes durability and safety. The raised sleeping area provides a cozy and secure spot for your child to rest, while the space below can be transformed into a cozy reading corner, a creative play area, or even a practical study nook when you add study furniture. With its unique design and meticulous craftsmanship, the Seaside Loft Bed brings a sense of sophistication and maturity to any child's room, making it a beloved piece that will be cherished for years to come.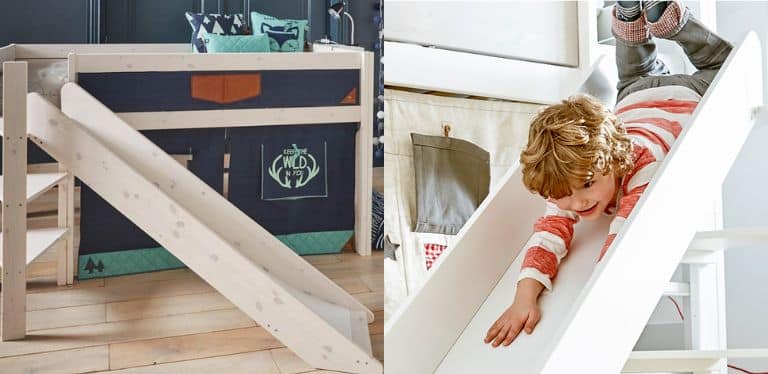 Alternatively, you can add a dash of fun and excitement with a slide on a low loft bed, providing your child with an adventurous sleep and play experience. With its low height, this loft bed is perfect for younger children as it ensures easy and safe access to the sleeping area. The highlight of this bed is undoubtedly the slide, offering endless hours of joy as your child glides down from the bed each morning. This bed not only offers a cozy place to sleep but also stimulates physical activity, promoting a healthy and active lifestyle. The sturdy construction and safety features ensure your child's well-being, allowing them to grow with confidence and delight in their very own wonderland.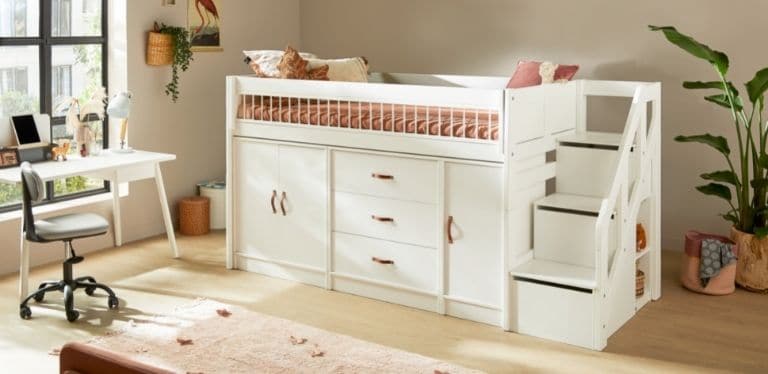 Having extra space in a child's bedroom is especially valuable in Singapore, where most homes face space constraints. Address your storage needs effectively with the versatile All-in-One Semi High Kids Loft Bed. Customize your storage arrangement beneath your child's bed, creating more open floor space in the bedroom for playtime. Utilize a range of modular storage units, such as chest of drawers, wardrobes, or shelving units, to discover the most suitable configuration for your child's bedroom. The loft bed comes in three height variations – Semi-High, Low Loft, and High Rise, offering flexibility to meet your specific requirements.
Apart from their appealing designs, these beds are also constructed to be robust and of high quality, providing long-lasting durability for your child throughout their growing years. Lifetime Kidsrooms' beds are meticulously handcrafted in Denmark using solid pine, and they come with a reassuring 5-year guarantee, ensuring peace of mind for parents.
---
Visit Our Creative Kids Furniture Showroom
Check out our range of modular, convertible kids beds in our showroom! We have quite the range of children's bunk beds, loft beds, and single beds. We're located at 100E Pasir Panjang Road, #08-01, B&D Building, 118521.