Leander began in 1998, when Stig Leander crafted a cradle that would would both soothe and encourage a child's growth for his twin nieces. Stig has long been involved in the creation of chairs, bicycles, and strollers as a trained blacksmith and used his skills to build the Leander brand. The goal was to design a straightforward, useful piece of baby furniture that will fulfill the needs of parents.
Stig Leander was revolutionary in the application of his design ideas. He had a concept of a cradle that was truly innovative in both form and function. Read on to discover beautiful baby furniture pieces from Leander to build the perfect baby nursery for your young ones.
Classic Baby Cradle

The timeless design of the Leander Classic cradle serves as a secure foundation while rocking your infant peacefully and softly. It is appropriate for newborn infants ages 0 to 6 months. The design of this cradle is simple yet a classy piece to add to your child's nursery to achieve the Scandinavian aesthetic. It is designed to move calmly to relaxed while having his senses, balance, and motor abilities stimulated by the rocking and comfortable movements.
Classic Baby-Junior Bed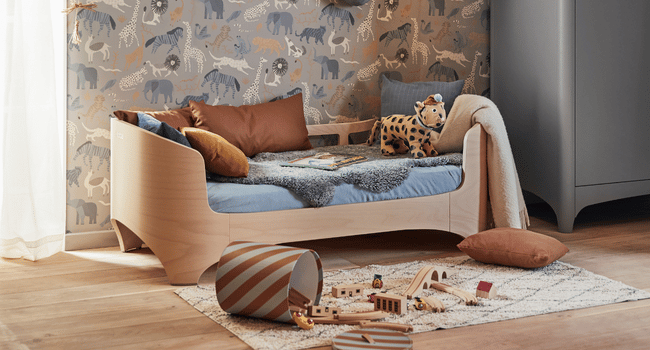 The versatile and iconic baby-junior bed may be converted and grows with your child from infancy through toddlerhood. The bed may be modified to your child's changing demands over a number of years by progressively adjusting the bottom and side panels and then adding the junior extension components. It provides a comfortable sleeping environment, which makes your child feel secure as they sleep.
Parents can then use the infant cot with the raised base and high ends first and lower the base when your baby gets bigger and starts to stand. You can remove one rail portion at first, then the other, once your infant can independently climb into and out of bed.
Matty Changing Mat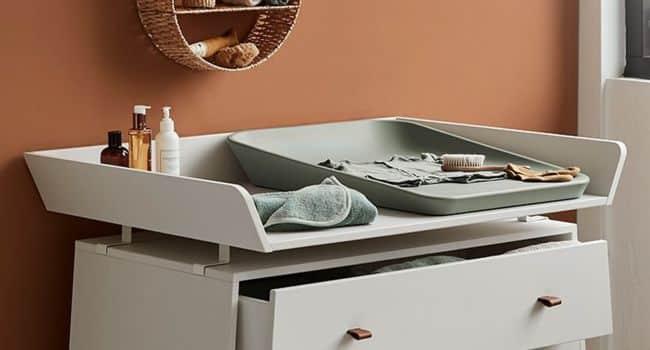 The practical and original Leander Matty changing mat raises the bar for your changing station. When changing your baby, the cutting-edge changing mat provides convenience, safety, and comfort. It is made of the softest PUR foam, a special substance that quickly adjusts to changes in temperature and feels almost exactly like bare skin. The Leander Matty changing mat is portable and simple to set up anywhere you wish, such as on a dresser, a table, or even the floor.
It is lightweight and has a strong back for improved stability along with small rubber feet with smart ventilation holes keep the area beneath the changing pad from becoming wet and producing stains. The Matty changing pad has undergone testing and received certification in accordance with European standards for child safety and hazardous materials. It also received the commendable German Design Award in 2019.
Luna Kids Dresser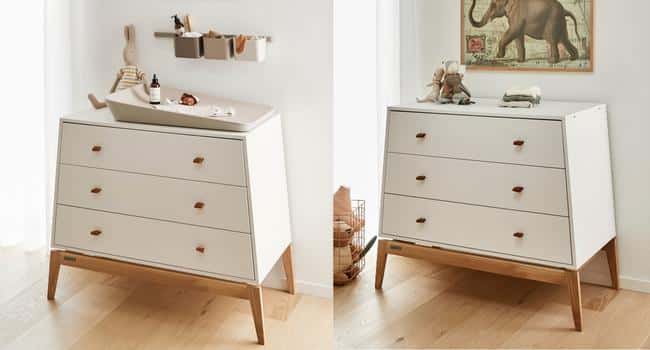 The Leander Luna dresser accentuates sophistication for your child's room. With three roomy drawers and a gentle shut to safeguard young fingers when the drawers are opened and closed, it ensures an organized and tidy appearance. The dresser has soft leather handles that are available with various felt colors to suit your design. The design is highly versatile in any room in your house, including a child's room/nursery or even a parent's bedroom.
Kids High Chair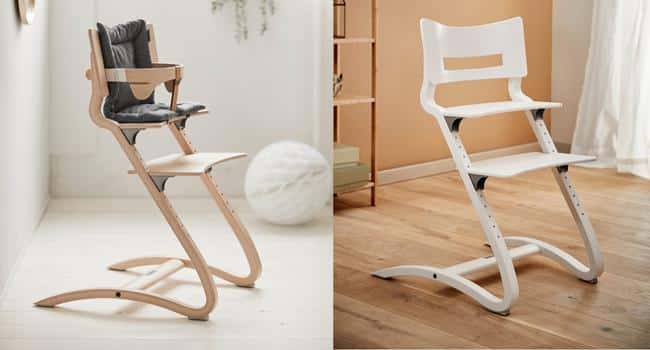 Most houses can use the traditional and timeless like the Leander Classic high chair. It provides excellent seated support and comfort by the contoured backrest and the skillfully fitting safety bar. The chair's slightly curved legs offer good stability and keep it from tossing about. Because of its slightly springy construction, the high chair may move along with your child's movements. Your child can sit more calmly at the table thanks to these motions that help them become more aware of their bodies.
Linea Changing Table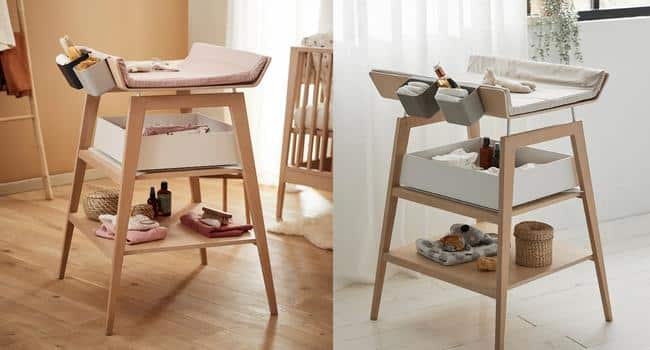 Get a statement item for your baby's room that is both aesthetically pleasing and multipurpose. The high edges of the Leander Linea changing table will keep your baby secure while you enjoy plenty of surface area for cherished moments with your child. Two shelves were added to the changing table to make sure everything was accessible.
All of the styles in the Leander Linea series feature a distinctive form and angled lines. A cozy and plush foam mat is provided. Beautifully colored covers are available to preserve the foam mat and to personalize the look. Leander organizers can be added to create more storage space.
Why Choose Leander Baby Furniture 
Here are some reasons why Leander baby furniture is such a great investment! 
They have a desire to positively impact society that drives the design of baby and children's furniture. A genuine Leander design always blends meticulously planned practicality with unwavering quality. Their furniture may be passed down from one generation to the next and grows and changes with the child. That is what defines a true design classic and sustainability.
Leander take the utmost attention when choosing materials that are strong, beautiful, and extremely functional. They produce only the best quality and pay attention to detail into working with materials like wood, leather, moulded PUR-foam, felt, and fabric. In an effort to make parents' lives easier everywhere, Leander constantly test and investigate the potential of materials.
Your little ones move constantly – even in their sleep. A Leander design is therefore created to either move with the child or provide your teen the flexibility to move and develop as they age. They work to stimulate the baby's senses, balance, and motor skills while maintaining a constant focus on economics and practicality to give the infant the ideal environment to grow and experience new adventures.
Visit Our Creative Kids Furniture Showroom
Check out our range of modular, convertible kids beds in our showroom! We have quite the range of children's bunk beds, loft beds, and single beds. We're located at 100E Pasir Panjang Road, #08-01, B&D Building, 118521.