When it's time for your toddler to transition from a crib to a bed, it opens up a world of possibilities for creative and fun bedroom designs. We offer an array of innovative toddler beds that not only ensure your child's safety but also bring joy and excitement to their sleeping space. In this blog post, we will explore some of the most creative and the best safety-tested toddler beds from renowned brands like LIFETIME Kidsrooms, Oliver Furniture, and Leander, all available at Kuhl Home Singapore.
CLIMB & SLIDE KIDS SINGLE BED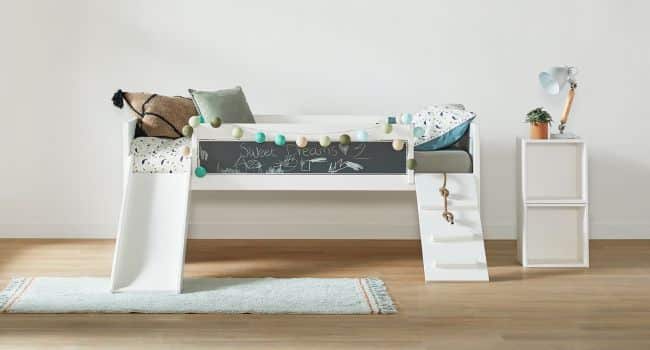 Transform bedtime into an adventure with the Climb and Slide Kids Single Bed by LIFETIME Kidsrooms. This unique bed combines a comfortable sleeping space with an exciting play area for the young ones to mount and get down from the bed. This bed design features a sturdy slide and a creative ladder, perfect for active toddlers who love to climb and explore. With safety as a top priority, the bed comes with secure side rails and rounded edges to prevent any accidental falls. It is also constructed from a safe height for your kids. With the Climb and slide bed design it not only ensures a good night's sleep but also guarantees endless fun during playtime.
HANGOUT KIDS LOFT BED WITH STORAGE LADDER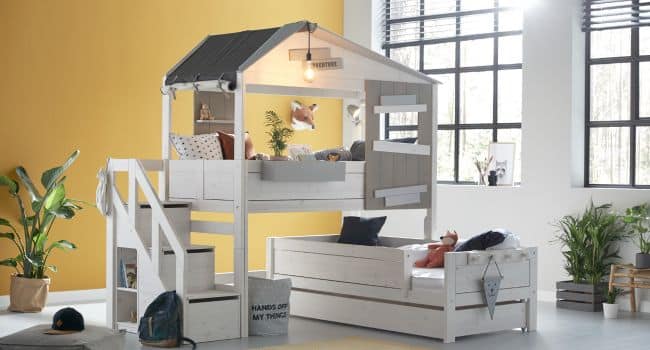 If you're looking to maximize space in your toddler's room while offering an engaging play and sleep area, the Hangout Kids Loft Bed with Storage Ladder is the perfect choice. This loft bed provides a cozy sleeping space elevated above the ground, leaving plenty of room below for play or storage underneath. The integrated storage ladder adds functionality, allowing your child to organize toys, books, and essentials neatly. With its high-quality craftsmanship and safety features, this bed design is constructed to withstand your child's every move during their imaginative play or while they're asleep. LIFETIME Kidsrooms also carry a variety of creative hut-beds like the Lakehouse 2 Single Bed or Beach House with Couch Bed.
SEASIDE KIDS LOW LOFT BED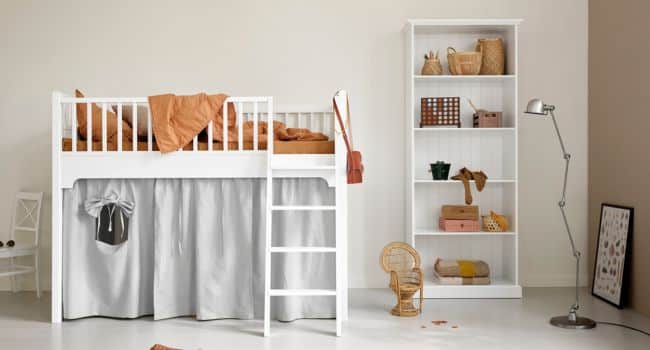 The Seaside Kids Low Loft Bed by Oliver Furniture combines elegance and functionality, creating a dreamy sleep and play space for your toddler with a fairytale dream. With its unique design resembling a cozy beach house, this bed sparks the imagination and invites creative adventures. Crafted from sustainable materials, it adheres to strict safety standards in Europe, providing a secure environment for your child. As this bed design doubles up with a loft area for play, it is not only a comfortable sleeping spot but also a fantastic play area where your toddler's dreams can come to life.
ROAD RACE LOW LOFT BED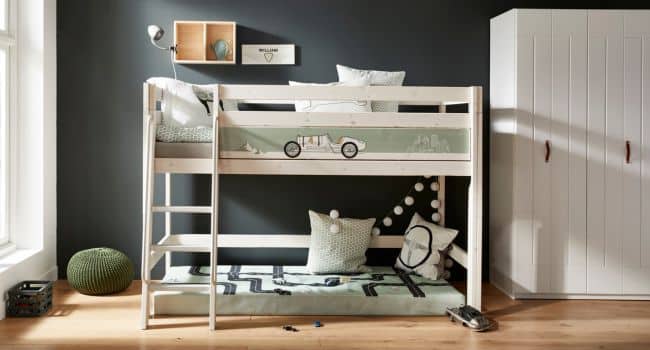 For little car enthusiasts, the Road Race Low Loft Bed by LIFETIME Kidsrooms will be an absolute delight. This bed boasts a fun race car design, complete with wheels, a steering wheel, and colorful details in its accessories and customized bed front. Your child will have a blast pretending to be a race car driver before settling down for a good night's sleep. The low loft design ensures easy access for your toddler, and sturdy safety features offer peace of mind for parents. Browse other bed themes available from LIFETIME Kidsrooms like Cactus Loft Bed and Dino Loft bed that combines the thrill of playtime with a safe and comfortable sleeping space.
CLASSIC BABY-JUNIOR BED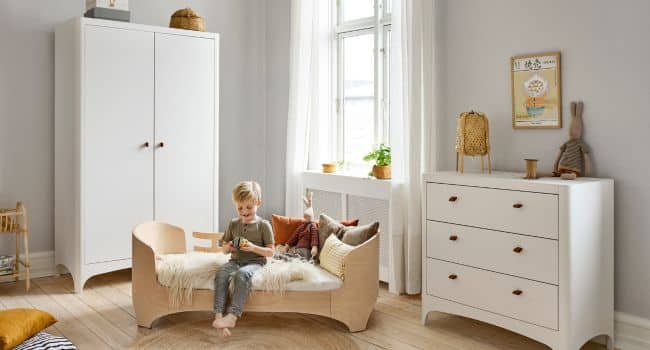 The Classic Baby-Junior Bed by Leander is an exquisite piece that grows with your child. It starts as a cozy crib for your baby and effortlessly converts into a toddler bed as they grow older. This convertible design ensures long-term use, making it an economical and sustainable choice. The bed's curved lines and elegant appearance create a soothing and safe sleeping environment for your little one. Leander's Classic Baby-Junior Bed is a timeless addition to your toddler's room, providing both comfort and style. You can also explore other lines from Leander such as the Linea and Luna Baby Cot that could easily be transitioned to lounge areas for your growing toddlers.
---
At Kuhl Home Singapore, you'll find a wide selection of these creative toddler beds, designed to provide comfort, safety, and imaginative play for your little one. Choose the perfect bed that suits your child's personality and creates a sleep and play haven they will cherish for years to come.