Enjoy
30% Off

All Hangout Kids Beds this August!

This offer is valid for all Hangout bed configurations, including the Hangout Kids Bunk Bed, Hangout Kids Bed (Loft Area Below), and Hangout Kids Bed (Loft Area Above).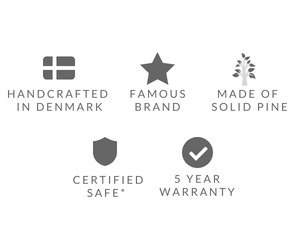 The Hangout Kids Bed is perfect for children of all ages to have their adventures right in their very bedroom. It provides ample room for cosy reading hours, fantasy games, comfortable sleep, and as the name suggests, hanging out with friends!
Lifetime beds are a lifelong investment – here's why. All beds can be converted into a single bed, taking your child through the ages. Thanks to its solid materials, it is also sturdy and stable after any form of conversion. In addition, Lifetime Kidsrooms' children's bunk beds are TUV certified and exceed legal standards for safety and quality.
---

Promotion ends 31st August, 2019.
Terms and conditions apply.